"There is no grief like the grief that does not speak."  Henry Wadsworth Longfellow
---
Back in March, Harvard Business Review published an extremely insightful and relevant article, "That Discomfort You're Feeling is Grief."  I remember reading it and feeling both grateful and surprised that, only a few weeks into the throes of a global pandemic, we were already naming the reality of grief.  And at that time, I don't know if we had any idea just how much and how varied our collective and individual grief would be.
In the midst of any kind of change and uncertainty, I believe we are guaranteed to find grief.  The change could be exciting and uplifting, such as getting a new job, starting a new relationship or welcoming a child into a family.  But grief is always there:  the new job might mean the loss of free time, the new relationship could bring the loss of a kind of independence, the new child most certainly means sacrifice and adjustments.  And if the change is something discouraging, like losing a job or a relationship or a loved one, then I bet we can easily imagine the grief that accompanies those situations.
From my experience (both personally and professionally), I believe that if we don't continually and intentionally grieve what is changing in and around us, we will be blocked from growth, healing and fulfillment.  Unprocessed grief leaves us frozen in time, in resentment, in fear or in pain.  
Let me suggest one way of working through grief (thanks to Linsey Wildey for this grief process):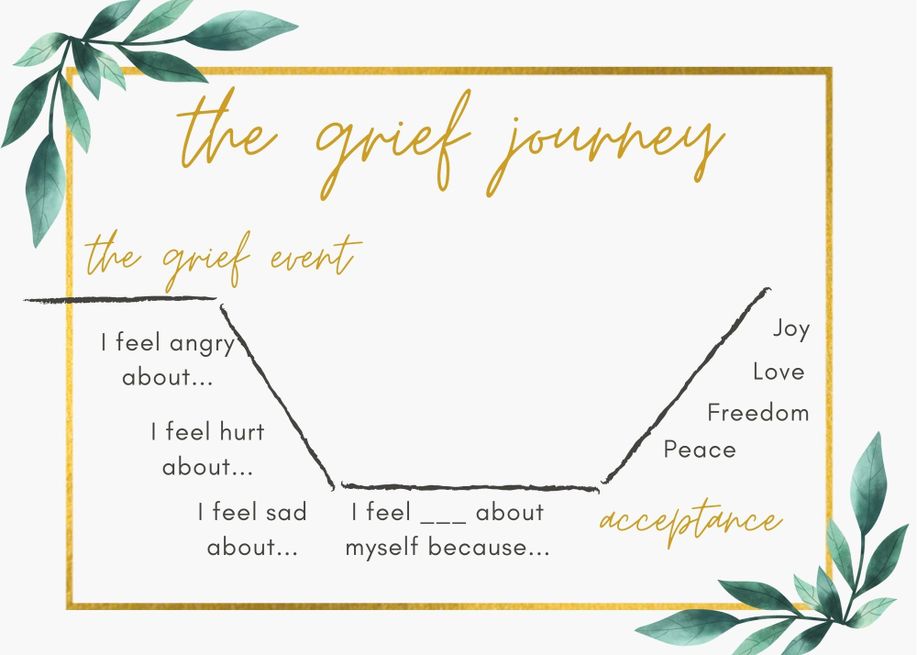 In the image above, we start on the left-hand side with the "grief event."  A grief event may be a singular event, or it could be a series of events, a relationship lost, a dream that crumbled, etc.  It's helpful to choose something specific that you want to consider as you process your grief.
Then we follow the downward trajectory, symbolizing the descent of death/decomposition/decline.  Feel free to use the questions and prompts provided to be as honest as you can be about your grief.  All things must die in some way in order for something new to emerge.  
It's in this place of dormancy and decomposition that we find the seeds of something new.  And this starts from acceptance.  What do you sense emerging as you accept your loss, your change, the way that life is now?  What new things are growing and coming to the surface?  Even if you name something that seems so simple, like gratitude for the sun coming up every morning, that is a place to start. 
In this with you,
Alair